History
Nestled in the beautiful hilly landscape of the Krems valley is our pig farm, a "square farm", the typical in our region construction. Since 1969, the Schlattl family has been working intensively on the breeding development of their pigs since 1969.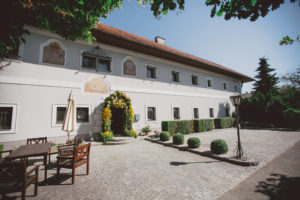 At the age of 23, Georg Schlattl was able to record sensational successes with Landrace as one of the youngest pig breeders' association members. The outstanding achievements were awarded at numerous fairs and exhibitions.
To react prematurely to changing market needs, the meat breed "Belgian (BL)" was added in 1978. After Switzerland was a role model for stress-relieving the maternal lines at the beginning of the 1980s, Georg recognized the signs of the times by refining domestic breeding material with local lines – a milestone in the history of the Upper Austrian association.
This step was a necessary development towards improving meat quality and thus increased consumer satisfaction.
In the long-term proven ÖHYB breeding program the advantages of 3 breeds are combined as follows:
 
Noble Pig
x
Landrace
F1
Crosspig
x
Pietrain
Porker
The challenge for the future is to breed stress-resistant pietrains with the best meat quality as well as meat fullness. Through the use of these boars best economic efficiency is achieved for the piglet producer as well as for the mower. The excellent meat quality ensures consumer confidence.
Col resistance has recently become a topic. Our goal, despite the correlation between stress-resistance and color-resistance, will be to unite them and hope to be able to make a significant contribution to saving our clients' time as well as working time